Cooking Article
Book your class today! 5 comments
A LITTLE THAI SPICE TO YOUR LIFE
By Ronald Estrada
Sometimes I get bored in Bangkok (imagine that!), and sometimes I even get hungry (and if I were a Thai girl, it would be ALWAYS).  Fortunately, I found one solution to these problems—learning how to cook Thai foods.  I followed the old saying that we have in the West: "When in Rome, do like the Thais."  So I enrolled in a fun Thai cooking school.  Now, when I shop in a Thai market, I actually know what to buy and how to cook it.  This is a liberating feeling AND saves me lots of money.  Yes, you read right, but maybe saving money doesn't matter to you?  As I am sure you are aware, Thai foods are much cheaper and often healthier than Western foods, and now I have learned how to cook my favorite Thai meals—Tom Yum Goong, Tom Kai Gai, Panang Gai, and Pad Thai.
In this big city, there are many cooking schools, but I found one highly recommended by some friends—Bangkok Thai Cooking Academy (www.BangkokThaiCookingAcademy.com), conveniently located in the heart of Sukhumvit, near the intersection of MRT Sukhumvit and BTS Asoke stations.  Each class consisting of no more than 7 students lasts four hours and costs only 1,250 baht.  During these classes four to five different dishes will be prepared, and you will receive a detailed recipe for each meal. The school offers two classes daily Monday thru Saturday, covering six different cooking courses.  If you complete at least three of them, you will receive a Certificate of Completion.
The English-speaking Thai instructor makes the classes fun and educational.  In fact, I loved the classes so much that I took four of them.  The first thing he teaches is that with Thai cooking, it all begins at the local market—where Thais go daily to purchase fresh ingredients for their meals.  Thailand is a land of plenty, and the local markets attest to this.  We met first thing in the morning, before going to class, at an open-air market where he taught us how to identify spices and herbs by the smell and look—sweet basil, bitter basil, spicy basil, kaffir leaves, lemongrass, cilantro (coriander), galanga ginger, and much more.   As well as herbs, we also purchased fresh shredded coconut meat to be used in making coconut milk, noodles, red and green chilies, rice, vegetables, seafood, and meats.  After this lesson, now when I go to a Thai market, I'm no longer a "lost" farang in the produce section!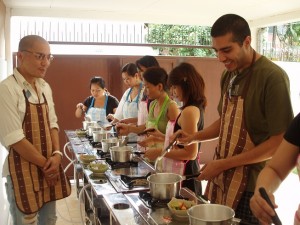 After shopping at the market, to the academy we went.  I must confess that the classroom is more like going to a fun dinner party with everyone seated in a large circle with all ingredients in the center.  This informality adds to the fun of the class.  Our first meal is my favorite—Tom Yum Goong.  With the instructor's help and guidance, we selected and methodically prepared each ingredient for cooking.  On the sheltered, open-air porch of this "classroom" are lined 7 gas cookers complete with woks and traditional coconut wood cooking utensils.  When using the cookers, I couldn't help but feel like I was on a Bangkok street cooking up a meal for the Thai. Once you get the ingredients to a cooker, it is amazing how fast they are cooked and ready to eat.  Next thing I knew, I was eating Tom Yum Goong—maybe the best ever (maybe I am prejudiced?)!  You quickly learn that the most time-consuming parts of Thai cooking are going to the market and actually preparing the ingredients for cooking.
When quizzed as to how exacting Thai cooking is, our instructor said: "Thai cooking very forgiving, a little bit of this, a little bit of that—up to you."  You want it hotter (pet maak maak)—just add more small peppers, if less hot (pet nit noi) then just use larger peppers or fewer small ones.  You see, the hottest peppers are the smallest ones.  The heat diminishes as the size increases.  This is a great lesson for those farang who can't take the heat, but don't want to get out of the kitchen!
After preparing the Tom Yum Goong, it was time to make some curry pastes—red, yellow, green, and panang.  Each is made a little differently, but all are made in the Thai traditional granite mortar and pestle where everything is finely ground into a paste.  Once prepared, these pastes will keep for several months.  They make Thai cooking quick and easy and usually then only require just adding some coconut milk and a few other fresh ingredients.
Learning the intricacies of Thai cooking has actually added spice to my life and at times allowed me to adjust spice in my cooking.  Cooking "Thai" is actually easy, creative, and rewarding.  Immersing myself in this fun activity has allowed me to obtain a unique souvenir—knowledge of how to cook Thai, something I can take with me no matter where I go next in this big world.  Now I can cook healthier, cheaper, and more creatively. To illustrate this point, I am a big fan of spaghetti (but then, my mother is Italian), and since taking this course, I now prepare Thai spaghetti.  Try this– you might like it (maybe even my mother would):
1.  in a skillet or wok, add a little cooking oil, chopped garlic and onions, cook until you smell the odor of garlic
2.  add ½ pound of ground pork, lightly cook
3.  add 1 small can of tomato paste plus 2 ½ cans of water, stir until thoroughly mixed
4.   add sugar to taste (about 2 teaspoons) plus some Italian seasoning
5.   add sliced baby corn, cucumbers, okra, mushrooms and quartered cherry tomatoes
6.   optional—add several sliced small peppers to "heat" things up
7.   cook about 12 minutes
8.   add sweet basil leaves about 1 minute before turning off heat
Serve on spaghetti and enjoy!!!  Presto, farang food but with a Thai twist.
Thai cuisine is world-renowned, and we here in Bangkok are fortunate to have access to this great mix of herbs, seasonings, sauces, coconuts, vegetables, tropical fruits and seafood.  Enjoying a year-round growing season, Thailand is truly a land of plenty, and thanks to Thai tastes and creativity, we are in the best place in the world to learn, participate, and enjoy.  So what are you waiting for?
NOT TO BE PUBLISHED WITHOUT AUTHOR'S WRITTEN CONSENT
© 2010 by Ronald Estrada.  All rights reserved.