PRIVATE THAI COOKING 
WHAT DO YOU WANT TO LEARN?

We are a professional Thai culinary school, and "We Know Thai Cooking."  If it is Thai cuisine you wish to learn, our 5 English-speaking Thai chefs are ready to teach you.  Below are listed 85+ Thai dishes to choose from.  If there are others you wish to learn, please advise.
Our Thai cooking school in Bangkok is very convenient as it is located next to a BTS Skytrain station.  Thai cooking classes with us are FUN, PROFESSIONAL, AUTHENTIC, and fully air conditioned.  Come see our new Thai cookery school by taking a cooking class for a half day or for eight weeks.  We teach Thai cooking–hands-on beginner classes, vegetarian classes, private classes, professional chef courses, fruit carving and team building events.  We are in Bangkok waiting for you…what are you waiting for?
The following is but a partial list of what we teach at our school.  If you wish more advanced instruction,  you can learn over 200+ professional Thai dishes in our Chef Training Programs.
Select

4 dishes

from 85+ meals below or other special request dishes of your own
Cost: 3,500 Baht for 1st student, 1,200 each additional student
All instruction, frying, preparation and eating done in air conditioned classrooms

(no heat & no sweat)



Monday-Saturday, AM class starts at 8:45; PM class starts at 1:00, each class 3.5 hours

Sunday class available upon special request

Select

4

dishes from the 85+ dishes below



Market tour for all classes

Pickup at BTS Bang Chak (12 minutes from BTS Asoke), Exit 5 at the end of the elevated walkway (

NO

TAXI NEEDED

)

Minimum class size: 1


Class with your own chef (one-on-one)

Special request dishes available at an additional upcharge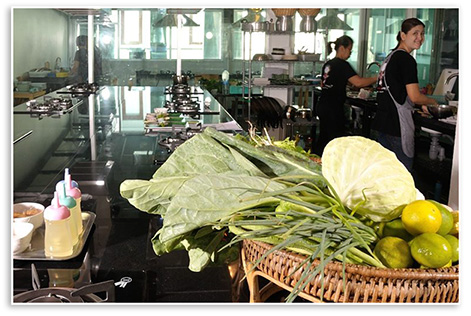 Dips & Sauces (any 2 count as 1 dish):
Satay peanut sauce (Nam Jim Satay)

Sweet chili sauce (Nam Jim Gai)


Spicy seafood sauce (Nam Jim Seafood)

Sweet cucumber dip (Nam Jim Buay)

Tamarind sauce (Sauce Makham)

Shrimp paste chili dip (Nam Prik Ka Pi)

Northern Thai chili dip (Nam Prik Num)

Appetizers
Chicken satay with peanut sauce (Gai Satay)

Fried spring rolls (Por Pie Tord)

Thai fish cakes (Tord Man Pla)

Thai fried corn & pork patties (Thod Mon Moo Khao Pode)




Pork & tomato chili dip (Nam Prik Ong)




Chicken wrap with pandanus leaves (Gai Hor Toey)



Salads
Papaya salad (Som Tam)

Spicy chicken salad (Laab Gai)

Glass noodle salad (Yam Wun Sen)

Pomelo salad (Yam Som-O)

Green mango salad (Yam Ma-Muang)

Thai grilled chicken salad (Yum Gai Yang)

Spicy grilled chicken salad (Nam Tok Gai)




Fried egg salad (Yam Khai Dao)




Spicy crispy chicken salad (Yam Gai Grob)




Grilled pork and apple salad (Yam Moo Yang Apple)

Mixed fruit salad (Som Tum Phon-Lamai)
Soups
Hot & sour prawn soup (Tom Yum Goong)

Hot & sour seafood soup (Tom Yum Phok Tak)

Chicken in coconut milk (Tom Kha Gai)

Wax gourd soup with chicken (Tom Juid Fak Gai)

Egg tofu & seaweed clear soup (Tom Juid Tao Hu Khai)

Stuffed cucumber in clear soup (Tom Juid Tang Gua Yat Sai)




Vegetable soup (Kaeng Leang)



Rice & Noodles
Thai fried rice (Khao Pad)

Pineapple fried rice (Khao Pad Sapparot)

Thai-style fried rice noodles (Pad Thai)

Stir-fried noodles with pork (Rad Na Sen Yai)

Minced beef flat noodles (Guay Tiew Nue Sup)

Fried rice noodles with pork (Pad See Ew)




Fried noodles with pork & spicy herbs (Sen Yai Pad Khee Mao)
Curry Pastes (prepared with mortar & pestle)
Green curry paste (prepare) (Nam Prik Gaeng Kheao Wan)

Red curry paste (prepare) (Nam Prik Gaeng Phet)

Panang curry paste (prepare) (Nam Prik Gaeng Panang)

Yellow curry paste (prepare) (Nam Prik Gaeng Ka Ri)

Massaman curry paste (prepare) (Nam Prik Gaeng Masaman)

Khao soy curry paste (prepare) (Nam Prik Gaeng Khao Soy)

Jungle curry paste (prepare) (Nam Prik Gaeng Pha)
Curries
Green curry chicken (Gaeng Kheao Wan Gai)

Red curry with chicken (Gaeng Phet Gai)

Panang chicken (Gaeng Panang Gai)

Yellow curry chicken (Gaeng Ka Ri Gai)

Massaman curry with chicken (Gaeng Masaman Gai)

Khao soy with chicken (Khao Soy Gai)

Jungle curry shrimp (Gaeng Pan Goong)

Red curry with pork & long beans (Pad Phrik King Moo Thua Fak Yao)

Red curry with duck & pineapple (Gaeng Ped Pet Yang)
Stir-Fried

Sweet & sour vegetables with chicken (Pad Preaw Wan Gai)


Stir-fried chicken with basil (Gai Pad Kra Pao)

Stir-fried black pepper beef (Nua Pad Pik Thai)

Stir fried chicken with cashews (Gai Pad Med Ma-Muang)


Stir-fried eggplant with chicken & basil (Pad Ma Keau Yaw)




Stir-fried shrimp with asparagus (Goong Pad Nor Mai Farang)

Yellow curry shrimp (Goong Pad Phong Ka Ree)

Stir-fried water morning glories (Pad Pak Bung Fai Daeng)

Stir-fried pork with snow peas (Tua Lun Toaw Pad Moo)

Stir-fried chicken with ginger (Gai Pad Khing)


Stir-fried broccoli with oyster sauce (Pad Broccoli Nam Maan Hoy)




Stir-fried mixed vegetables (Pad Pak Ruam Mit)

Thai omelette (Khai Yat Sai)

Oyster omelette (Aw-Suan)




Stir-fried pork with garlic and pepper (Moo Tod Gratiem Prik Thai)

Spaghetti with spicy shrimp (Spaghetti Pad Khi Mao)

Stir-fried beef with spicy herbs (Pad Khi Mao Nua)

Stir-fried beef with oyster sauce (Nua Pad Naam Manhoy)

 
Steamed
Pork in lime, chili & garlic sauce (Moo Ma-Now)

Stuffed squid with spicy lime sauce

(Pla Neuk Neung Ma-Now)



Deep Fried
Shrimp in tamarind sauce (Goong Thord Lad Sood M

akham)




Fried pork with sesame (Pmoo Tord Nga)

Fried chicken with lemongrass (Bpeek Gait Hot Ta Krai)



Desserts
Mango with coconut sticky rice (Khao Neaw Moon)

Coconut pancakes (Ka Nom Ba-Bin)

Coconut milk custard (Ka Nom Tuai)

Bananas in sweet coconut milk (Kluay Buad)

Rubies in coconut milk (Tub Tim Grab)

Steamed banana pastry (Ka Nom Kluay)

Tiny dumpling in sweet coconut milk (Ka Nom Bua Loy)

Sweet corn & tapioca with coconut milk (Sa Koo Bpiak Khao Pode)

Pumpkin custard (Sang Kha Ya Fak Thong)




Coconut & pandanus leaf jelly (Wu Ka Tit Bai Toey)

Deep fried bananas (Kluay Tod)

Pumpkin in coconut syrup (Buad Fak Thong)

Fried bananas topped with honey (Kluai Thot Rat Nam Peung)

Thai sweet dumpling (Kanom Tom Bai Toey)
SPECIALIZED COOKING CLASSES:
Noodle soup (Kway Teow)–1/2 day for 3,500 Baht


Boiled pork leg (Khao Kha Moo)–1/2 day for 3,500 Baht

Chicken & rice (Khao Man Gai)–1/2 day for 3,500 Baht


Make tofu and soy milk–1/2 day for 3,500 Baht

Moo Kata–2 days of training for 10,000 Baht

Look Choop–1/2 day for 4,000 Baht

Crispy roasted pork belly (Moo Krob)–1/2 day for 3,500 Baht


Crispy Thai crepes (Kanom Buang)–1/2 day for 3,500 Baht

Thai dessert class–full day for 6,000 Baht (learn up to 7 dishes)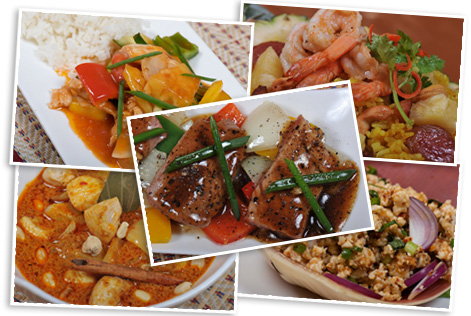 Note: Special request dishes not listed above might be available but at a small additional upcharge
BOOKING for UP TO YOU classes: Click on BOOKING to submit your request.  After you receive our email confirming availability, a deposit using a credit card will be required–since we are assigning you a chef for a private class.