Placement–Local and International
"We Know Thai Chefs"
Looking for a Thai chef?  We are located in Bangkok, the heart of Thai cuisine.  There is no better place for Thai chef recruitment.  Our goal is to help restaurants connect with Thai chefs.  Need a Thai chef who speaks English for overseas work–no problem.  Need a Thai chef for work in Thailand only–no problem.  Either way, we can help you.
OUR QUALIFICATIONS
We are a Thai culinary training school, regularly training chefs from Thailand and abroad in the art of Thai cooking.  Consequently, we have contacts with numerous qualified Thai chefs.  Many have been overseas previously.  We are not novices trying to place Thai chefs.  As a Thai cooking school for many years, WE KNOW THAI FOOD & WE KNOW THAI CHEFS!
NOTE: We are also a professional Thai cooking school and sometimes restaurants choose to send us their cooks/chefs to learn Thai cooking.  This way, no visas, work permits, accommodations are necessary since we are training others from your country to cook like a Thai!  For more details on this program, please click HERE.
OUR CHEF PLACEMENT SERVICES
OUR CHEF PLACEMENT SERVICES
Our recruiting services consist of the following:
 Finding Qualified Chef Applicants – Using our contacts in the Thai culinary community and some of our graduating chef students, we can successfully locate chefs possessing the credentials you need.
Evaluation–Our Chef Placement Specialist, Tanawan, gets to know every chef applicant so that we can better understand their motivations, desires, reasons for going overseas or working in Thailand, and much more.  This, in turn, helps us to determine suitability and chances of success.
Testing – All applicants are tested in Thai cooking skills, with special emphasis on authenticity and presentation.  Short videos are made of their cooking skills, mannerisms, and professional presentation.
Placement – Once you make the decision to hire one of our chefs, the challenge becomes to get him to your business as soon as possible.  Effort is required by all involved to make this happen–on your end and on ours.
INTERVIEW PROCESS
Before we can set up interviews for you, the first step is for you to complete our questionnaire.  Please click HERE to download and complete. After completing it, please return to us for our review.  We will then get back to you with our comments and suggestions.  Our Chef Placement Specialist will discuss your information with those chefs meeting your requirements.  For those interested in working for you in your country, we will send their resumes along with a video to you.  Once you tell us which ones interest you, we will proceed accordingly.
WAYS TO HIRE A PERMANENT CHEF:
Skype Interview – For those not wanting or able to travel to Bangkok, this approach works well.  You will have their resumes plus videos, and you will be able to meet them via Skype.  Ask your questions; listen to their answers in English; become acquainted.
Face-to-Face Interview in Bangkok – Tell us when you wish to come to Bangkok.  We will arrange to have the chefs at our school ready to meet you.  You can meet them, and we will administer cooking tests.  You meet them; we test them; you taste their cooking; you decide.  
We Choose for You –  You tell us what you want.  We can even send resumes and videos to you for your input.  And then we can test, interview, and negotiate with applicants on your behalf.  
Local Chef Placement –  For local chef placement (Thailand), just call Khun Tanawan at 081-915-4919 
We have used all methods of interview/placement successfully.  It is really "up to you".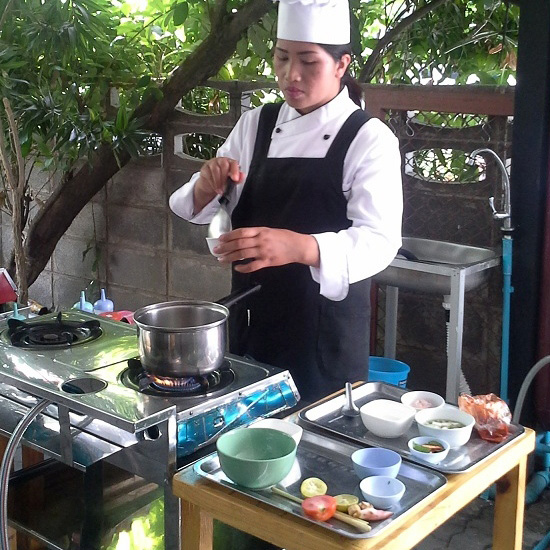 Local Placement Fee –  $750 USD for each chef hired,
paid upfront
Overseas Chef Placement Fee –  $1,500 USD for each chef hired,  broken down as follows:
A.  Engagement Fee ($750)–A good faith deposit for those serious about wanting us to find a qualified Thai chef.  Once your deposit is received, resumes and videos of qualified applicants will be sent by email to you.  This fee is applied against your placement fee when a chef is hired.
B.  Boarding Fee ($750)–Paid once your chef is ready for departure, paid prior to boarding an airplane.


NOTE:  We do NOT charge Thai chefs for our service.  Our only fee comes from the employer.
To discuss your specific needs and questions, please send an email to Tanawan@BangkokThaiCookingAcademy.com, call Tanawan at +66 819-154-919 (English & Thai), or click HERE.  We can also be reached by Skype:  BangkokThaiCookingAcademy (Skype username, but by appointment only).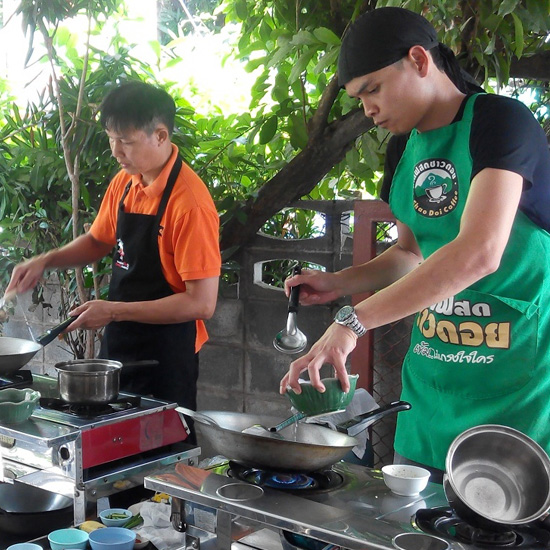 DISCLAIMER:
Bangkok Thai Cooking Academy serves only as a middleman by assisting employers in finding suitable chefs and assisting chefs in finding suitable employment.  No guarantees, explicit or implicit, as to suitability, honesty, or security are provided by us.  Our service is as a middleman only and our involvement and responsibility ceases once the chef is hired.