TEAM BUILDING ACTIVITIES
Event Planning in Bangkok

Team building in Bangkok has never been easier.  We can help you with your event planning.  Maybe it's just time to reward your crew for a job well done, or maybe you just want to show them that you care.  Whatever your reason, we at Bangkok Thai Cooking Academy  can provide you with a fun and memorable event.  Fun Thai or Western cooking events are available 24/7 at our Academy.  Team bonding cooking parties are a great way to promote bonding, better communications, and improve camaraderie.  Anthropologists often use the term "commensality" to describe the special bond between people who eat together.
E BROCHURE OF OUR TEAM BUILDING EVENTS…CLICK HERE
OUR NEW TEAM BUILDING ROOM
FROM 5 TO 80 STUDENTS
MASTER CHEF COMPETITION (4 hours)
This competition is up to 4 hours in length.  Teams compete here to see who best learns how to cook selected Thai or Western
dishes.  Competitive and fun for those who compete in this cooking event.
We put on fun events at reasonable prices.  Here are some reasons for having your next team building event with us in Bangkok:
Convenience—Conveniently located near to the BTS mass transportation line (BTS On Nut), transportation by van or bus also available
Affordable—For one reasonable price/person, we provide ingredients, supplies, education, and fun in a safe and air-conditioned environment
Selectivity– Choose either Thai or Western dishes to learn
Availability—We can host your event at our academy most anytime
Memorable—Preparing meals together is fun, eating together is even more fun.  Memories last forever.
Flexible—Since we are indoors, we are available 24/7, rain or shine
Team Work—Working together preparing ingredients for cooking, actually cooking meals together, and sharing a great meal mutually prepared promotes bonding
Non-Athletic—Something for men and women to do together without injury or too much heat
Activities available—Thai or Western cooking in teams, master chef competition, and fruit carving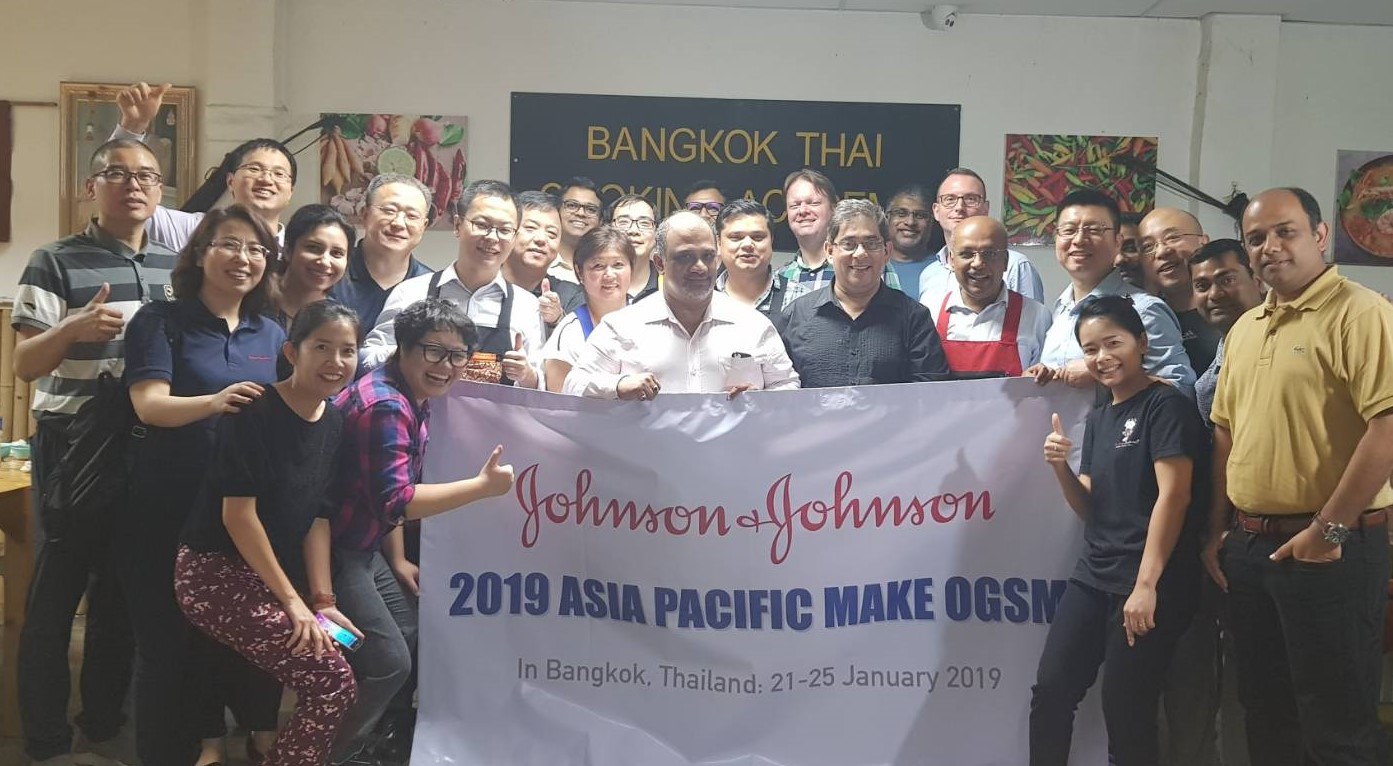 We have lots of experience in putting on team building activities.  Over the years, we have done many events–ranging from 5 to 125 pax.  It does not matter what time or what day.  Just contact us to discuss your particular needs.   A deposit is required for all group and private events booked.  We accept most methods of payment, such as: cash(Thai Baht or USD), PayPal, all major credit cards, and bank transfers.  Unpaid balance can be paid by cash (Thai baht) or credit card (+3% processing charge) at the end of your event.
To discuss further, please call: +66 819-154-919 (English or Thai) or E-MAIL US or send an email to: Ron@BangkokThaiCookingAcademy.com.  We can also be reached by Skype: Bangkokthaicookingacademy (by appointment only).