THAI FRUIT & VEGETABLE CARVING CLASSES




In Bangkok – Hua Hin – Phuket



Such beauty, such detail—get in touch with the artist in you. Taught by our Master fruit carvers—Kru Nat, Kru Ya, Kru Dao, and Kru Guitar. Come learn from them how to master the techniques and become as good as you can be. Here's just a sampling of what you can learn to do. All it takes is great instructors, some talent, and lots of practice!  **SPECIAL** 3,000 Baht for beginner classes!!
OFFERING BEGINNER & ADVANCED CLASSES, and 1 & 2 WEEK COURSES
START WITH THE BASICS:
Unless you are an experienced fruit carver, we recommend you start out with the basics. Courses 1-3 will get you lots of practice to develop the right moves. Once you have completed these classes, you will be ready for the more advanced instruction that we also offer.  These classes are also available in our other fruit carving culinary school:  www.HuaHinThaiCookingAcademy.com.

BEGINNER CLASSES (Courses 1 – 3)–ADVANCED CLASS (Course 4)

PURPOSE: Teaching of fruit carving methods and techniques, proper use of fruit carving tools, selection of fruit for quality, care of fruit after carving. Classes are listed in order of difficulty. For novices, we recommend starting with Class #1. Making of leaves, flowers, and petals are easiest when starting with Course #1. NOTE: Fruit carving is an ART, not a science. The more you practice, the more you will learn and the more proficient you will become. For those really serious about fruit carving, we offer as many classes as you wish to take. For those who are already skilled in fruit carving, please refer to our Advanced Class section below.
Beginner Classes only 3,000 Baht each
Advanced Classes only 3,500 Baht each

Course #1

Course #2

Carving of:

Spring Onions

Long Chilies

Red Radish

Tomatoes

Baby Carrots

Carving of:

Cucumbers

Eggplants

Gourds

Carrots

Baby Cucumbers

Course #3

Course #4

Carving of:

Green Papaya

White Radish

Pumpkins

Apples

ADVANCED CLASS–Carving of:

Cantaloupe

Water Melons

Green Mango
ADVANCED CLASSES:

For those already skilled in this art form, we offer advanced training.  We have no predesigned classes here, as instruction will be dictated by your own interests and proficiency.  Our goal here is to take you to the next level.  When BOOKING for these classes, please provide details to us in the "Comments" area as to what you wish to learn and your general skills level.  We will be glad to design a learning program for you, one which will improve your skills.  If you wish to send us pictures of your fruit carving creations, please send to Ron@BangkokThaiCookingAcademy.com.  Our instructors will review and reply to your email with a class plan, etc.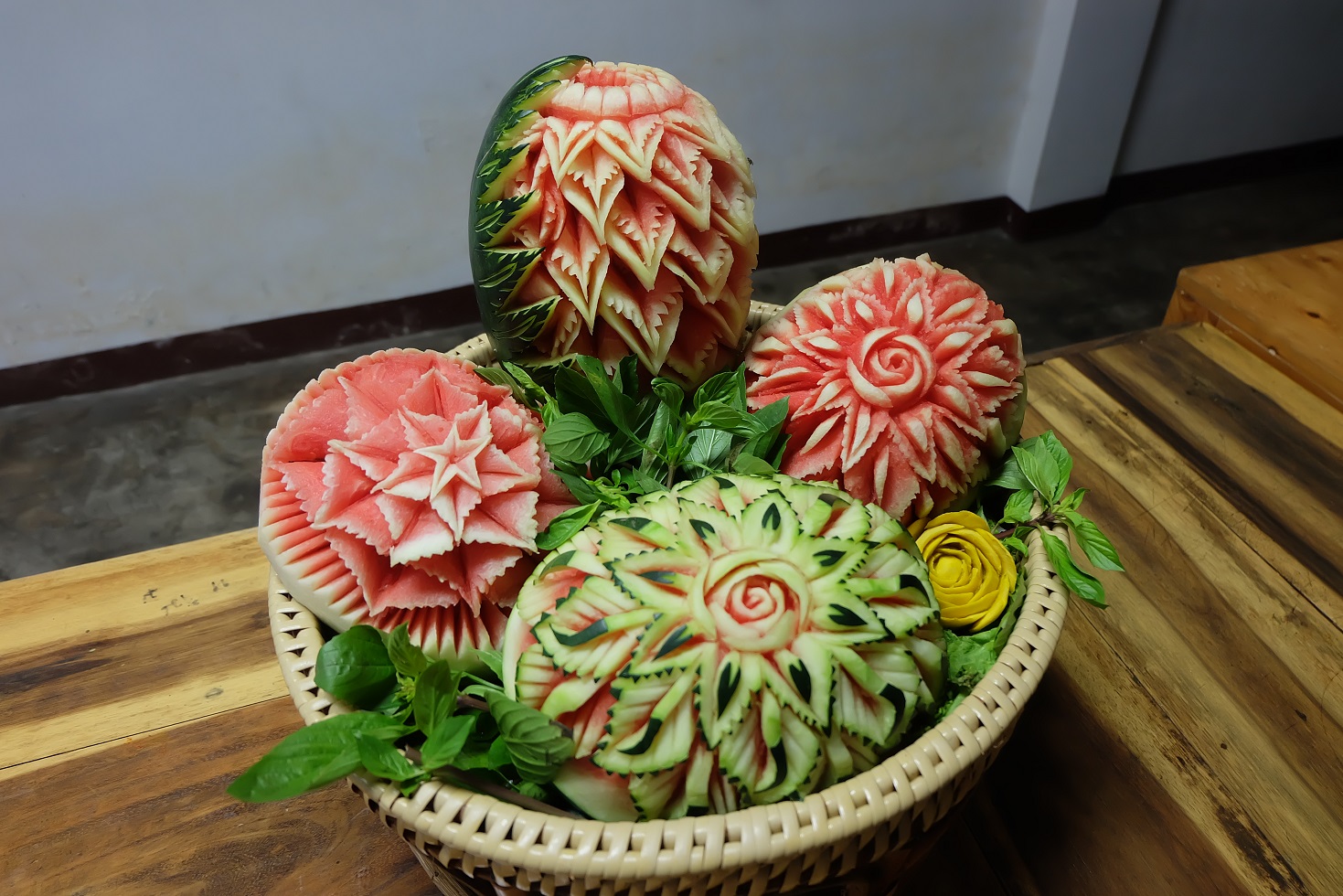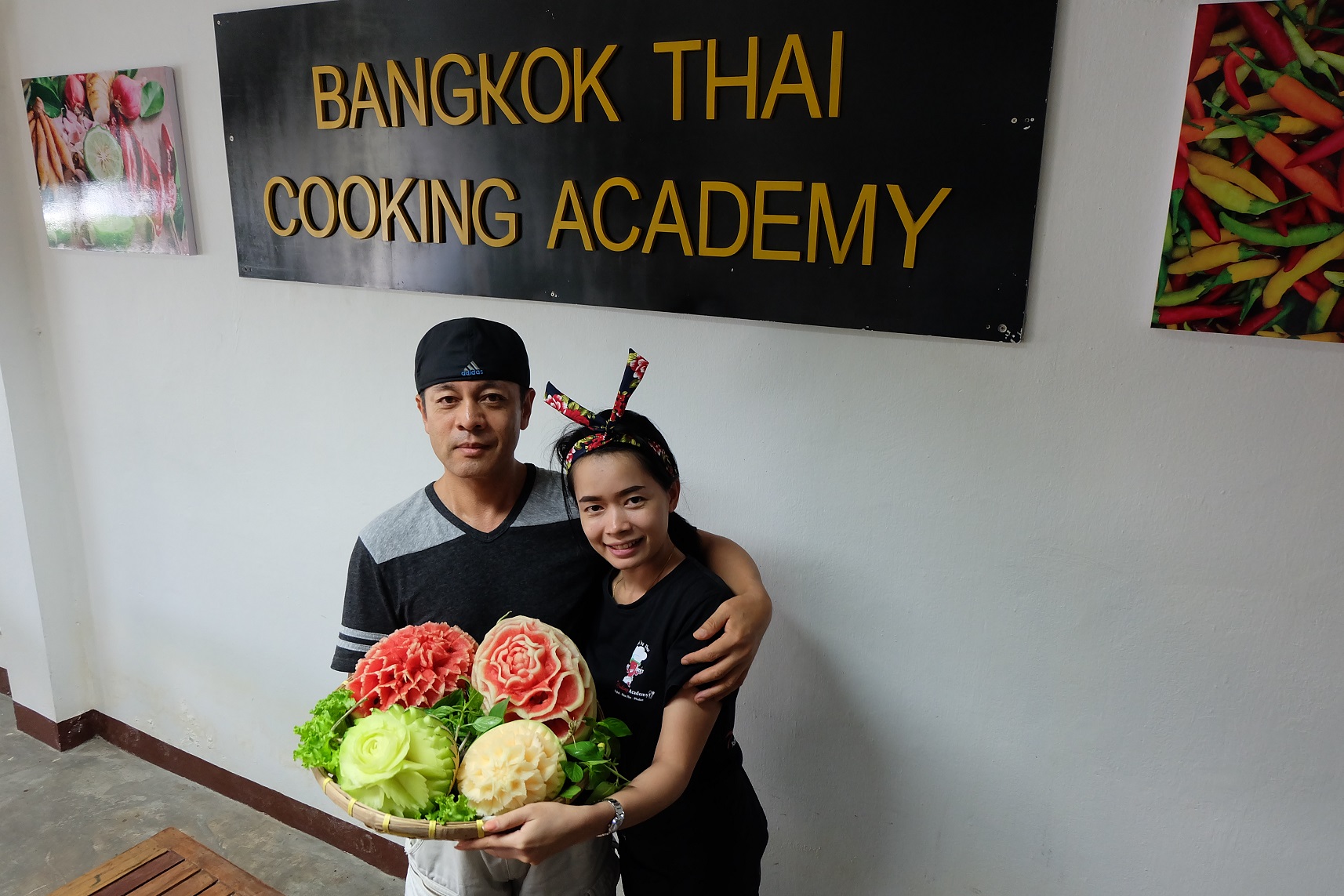 INDIVIDUAL CLASS DETAILS:
COST/CLASS

(Basic Courses 1-3):  3,000 Baht for 1st student, 1,200 for each additional student

COST/CLASS

(Advanced Course 4 and beyond):  3,500 Baht for 1st student, 1,500 for each additional student

CLASS LENGTH

: 3 hours 30 minutes

AVAILABILITY

:   Monday-Saturday, 2 classes daily—8:45 AM – 12:15 PM  & 1:00 PM – 4:30 PM

PICKUP (MEETING PLACE)

:  BTS Bang Chak (12 minutes from BTS Asoke), Exit 5 at the end of the walkway

1 & 2 WEEK COURSES:
BASIC-TO-INTERMEDIATE COURSE (5 days)-–
Our most popular course, this one week intensive fruit carving course takes you from being a novice to being able to carve at the intermediate skills level.  Fun, yet work, is a good way to describe this course.  Starting out with the simplest of fruits, such as chilies, cucumbers, carrots, apples, and tomatoes, you will gradually progress to carving of mangoes, cantaloupes,…  Before you know it, you will be so proud.  Thanks to our 4 Master fruit carving instructors, you will be will on your way to becoming quite skilled in the ancient Thai art of Kae Saa Luk.
PRICE:  30,000 Baht for 5 FULL days (2 days Basic plus 3 days Intermediate) with our Masters plus 500 baht for your own special fruit carving knife
BASIC TO ADVANCED COURSE (10 days)–
For those more serious about mastering this ancient Thai art form, this course covers 10 days of fun Thai fruit carving.  Always wanted to be an artist?  Join us and find the real artist in you.  Our two Master Fruit Carvers will improve your skills and take you to the next level for sure.  You will benefit from their years of experience.  Before you know it, you will be able to impress all who know you.
PRICE:  60,000 Baht for 10 FULL days (2 days Basic, 3 days Intermediate, and 5 days Advanced carving) with our Masters plus 500 Baht for your own special fruit carving knife
CURRENCY CONVERTER:  To convert from Thai Baht to your currency, click HERE.
BOOKING & PAYMENT:  When booking a fruit carving class, please use our "BOOKING" page, and indicate "Fruit Carving" class.   Please indicate in the "Comments" section whether you are a beginner or advanced.  If you do not indicate this, we will start you at the Beginner level.  We will confirm the availability of your requested class.  After you receive our email affirming availability, a deposit using a credit card is required (above).  The balance of the amount due is to be paid in Thai baht upon the completion of your first class.
SNACKS & BREAKS:  There will be a 15 minute break during each class.  Snacks along with coffee, tea, or water will be available (free).
SCHEDULING FLEXIBILITY:  Pick the class(es) you want to learn and the day(s) you wish to take them.  Classes are available Monday-Saturday.  We will confirm with you shortly after receiving your booking.
LOCATION: On Sukhumvit Road, next to BTS Bang Chak (12 minutes from BTS Bang Chak).  See Map for particulars.
FOOD CARVING TOOLS:  We provide all food carving tools and supplies.  For those taking the 1 or 2 week fruit carving courses, we charge you 500 Baht for your own special fruit carving knife.
ACADEMY T SHIRT:  A free logo t shirt is provided to those completing the 1 week or 2 weeks fruit carving course.
CERTIFICATE OF ACHIEVEMENT:  A pictured Certificate of Achievement is provided to those completing 3 or more fruit carving classes or upon the completion of either the 1 week or 2 weeks fruit carving course.
ACCOMMODATIONS:  There are many hotels and hostels in our area.
Learn KAE SA LUK with Our Master Thai Fruit Carvers
Welcome to Thailand, the home of Kae Sa Luk—the Thai term for the centuries old art of fruit and vegetable carving.  Originally developed to enhance food presentation in the Royal Thai courts, this art has now gained acceptance in worldwide culinary circles.
ART FORM & A NEW HOBBY
Kae Sa Luk is recognized as an original form of art, one which converts fruits, vegetables, and even soaps into creative master pieces.  Competitions are held worldwide.  This art form is widely practiced in Thailand.  Come join us and learn for yourself a new hobby while impressing your friends, guests, and customers back home.
COMMERCIAL BENEFITS

Fruit carving adds so much to a served meal.  What a great way to impress your friends and customers.  It demonstrates to them that they are very important to you.  This in turn adds value to the meal being served.  Your friends and customers will recognize this, and you will directly benefit from this perception too.  This is a win-win for all.
We are in Bangkok, the home of Kae Sa Luk.  Join us and learn from our Masters!