Vegetarian Thai Cooking
Want to learn vegetarian Thai cooking?  Our Thai cooking school in Bangkok is very conveniently located next to a BTS Skytrain station.  Thai cooking classes with us are FUN, PROFESSIONAL, AUTHENTIC, and fully air conditioned.  Come see our new Thai cookery school by taking a cooking class for a half day or for eight weeks.  We teach Thai cooking–hands-on beginner classes, vegetarian classes, private classes, professional chef courses, fruit carving and team building events.  We are in Bangkok waiting for you…what are you waiting for?

Cost: 1,400 B half day class

All instruction, frying, preparation and eating done in new air conditioned classrooms

(no heat & no sweat)



Pickup at BTS Bang Chak (12 minutes from BTS Asoke), Exit 5 at the end of the elevated walkway
5 dishes/class + make a curry paste

You decide what to learn, each student can pick his own dishes to learn

31 dishes available to learn
Market tour included
Learn to make sticky rice

Learn to make coconut milk

Monday-Saturday, 2 classes daily, AM class 8:45 ; PM class 1:00

Internet access to 31 recipes + videos

Certificate of Achievement awarded
NOTE:

  For those interested in learning professional Thai vegetarian cooking, we offer a 5 day vegetarian/vegan cooking course.  To see the dishes, click HERE.  To read about the course, click HERE.
NOTE:  Each student can pick his own dishes to learn
CURRY PASTE (Prepare) + TOFU 
(
CHOOSE ONE
):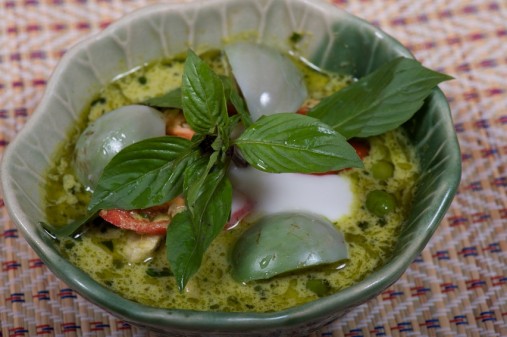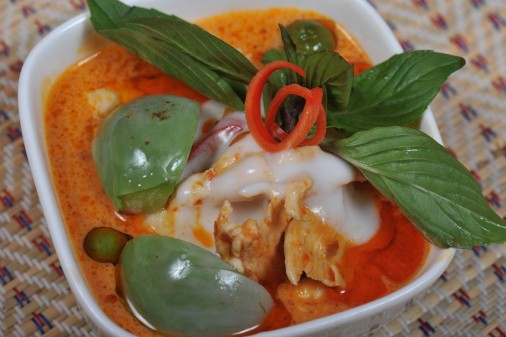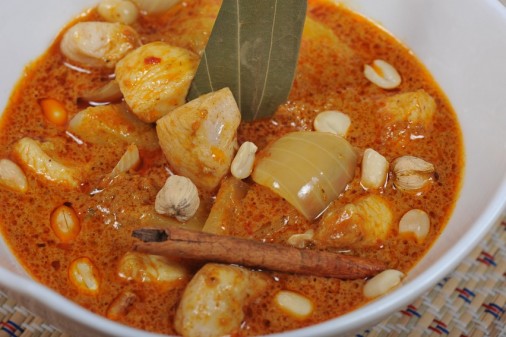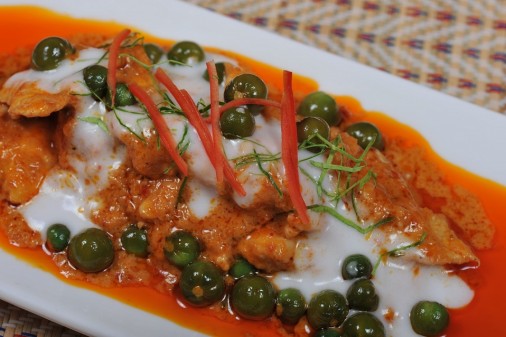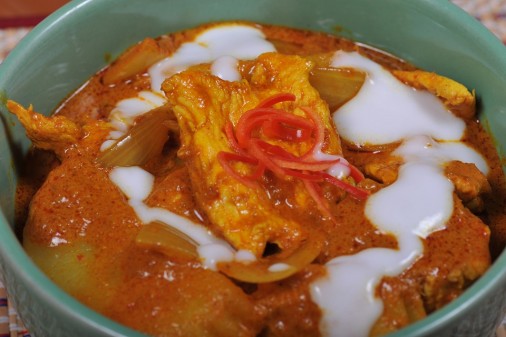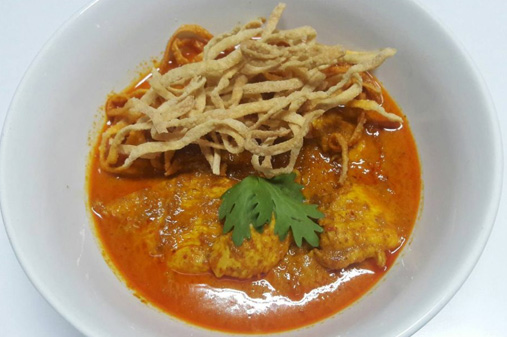 Green curry

Red curry

Yellow curry

Panang

Massaman

Khao Soy
SOUP & SALAD (
CHOOSE ONE
):
Tom Yum J

Tom Kha J

Som Tam

Spicy Tofu Salad

Glass Noodle Salad
APPETIZER, RICE & NOODLES (
CHOOSE ONE
):
Pad Thai

Pineapple Fried Rice

Pad See Ew With Tofu

Tofu Satay

Thai Corn Fritters
Stir Fry (
CHOOSE ONE
):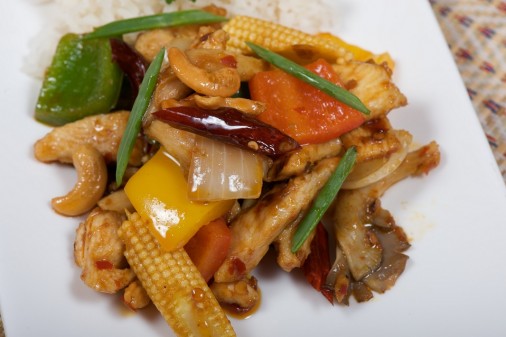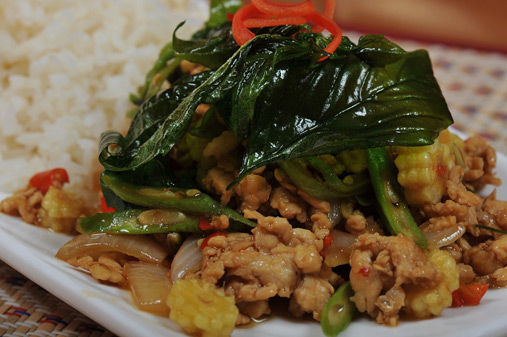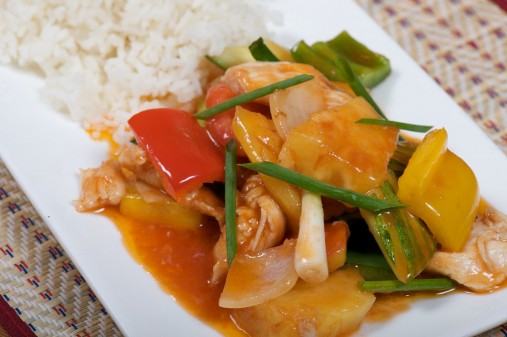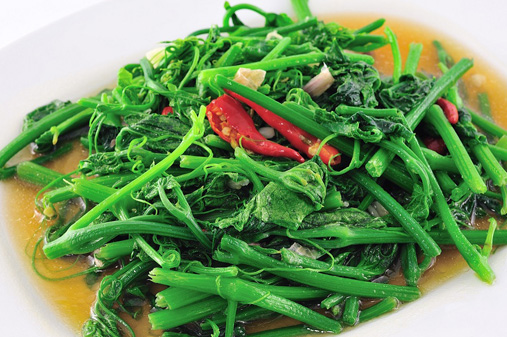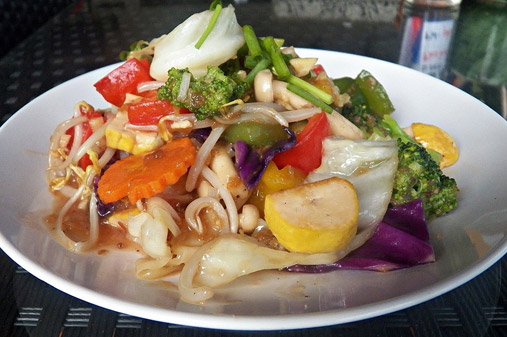 Tofu with Cashews

Tofu with Black Pepper

Tofu with Spicy Basil

Sweet & Sour Vegetables with Tofu

Stir Fried Morning Glorie

s

Mixed Vegetables in Mushroom Sauce
Dessert (
CHOOSE ONE
):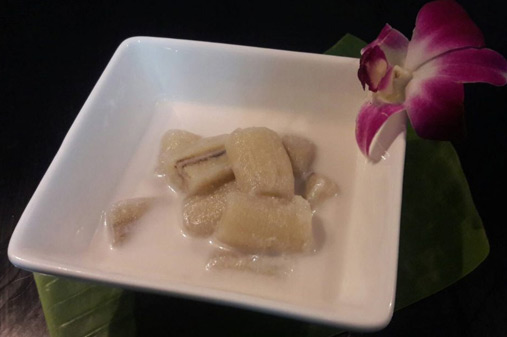 Mango with Sticky Rice

Deep Fried Bananas

Bananas in Coconut Milk
NOTE:  For professional training in vegetarian/vegan Thai cooking, please click HERE.
FREE EXTRA FOR EACH SESSION

AM SESSION

Market Tour

Make Sticky Rice

Make Coconut Milk
PM SESSION

Market Tour

Make Sticky Rice



COMPARE….TRY US….We GUARANTEE your SATISFACTION!
PAYMENT– Payment for Thai cooking classes is in Thai baht, usually at the completion of your first class.
GROUP & PRIVATE CLASSES– These are available. Contact us for time frames, costs, and scheduling.
CERTIFICATE OF ACHIEVEMENT:
A Certificate of Achievement is awarded to those completing 1 or more classes.
Note: We provide everything for the course. Just make sure to bring your appetite, as you will be able to eat all the tasty meals you prepare. Come join us and have some fun!
MEETING TIMES & INSTRUCTIONS:
Vegetarian Thai Cooking classes are offered Monday-Saturday, twice daily at 8:45 & 1:00. All morning and afternoon classes include a Thai market tour. We are conveniently located next to BTS Bang Chak (12 minutes from BTS Asoke), directly on Sukhumvit Road. In our new school, all frying, food preparation, and eating is done in air conditioned classrooms. . Market tour follows after meeting your instructor and then to the school to prepare, cook, and eat the best Thai food you have ever eaten!
Note: Meals are prepared with minimal use of hot peppers. You, as the cook, can adjust the "heat" to your liking.
To discuss your special needs or to answer any questions, please call: (66) 2-020-6233 (School–English or Thai), (66) 807-706-741 (English), or E-mail: Ron@BangkokThaiCookingAcademy.com.