Thai Cooking
November 11, 2010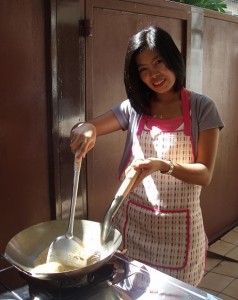 Welcome to Bangkok, home of world-renowned flavorful and healthy Thai foods.  We, at Bangkok Thai Cooking Academy, invite you to join us for some fun hands-on learning of how to prepare and cook Thai meals.  There is no better place to learn Thai cooking than here in Bangkok.  So, what are you waiting for?
We pride ourselves in teaching visitors and expats the ins and outs of successful Thai cooking.  Our air conditioned school is conveniently located in the heart of Sukhumvit, near the intersection of the MRT (Subway) and BTS (Skytrain) at Asoke.  Actual instruction is in an air conditioned quaint Thai home, and all classes are small and personal.  To start, for the morning classes our English-speaking Thai chef will meet you at the Dunkin' Donut shop which is at street level where BTS Asoke (Exit 3) and MRT Sukhumvit (Exit 3) intersect. .  All Thai cooking starts with a visit to the market, in this case the Asoke produce & seafood market, where fresh ingredients will be selected.  The market tour includes instruction in making coconut milk, as well as selection of peppers, spices, herbs, vegetables, and seafoods.  Upon returning to the school, our instructor will also discuss sauces, sticky rice, and the preparation of various curry pastes.  During class, coffe, tea, and water are served free.   Hands-on experience will be obtained by preparing each ingredient, combining as appropriate, and cooking in a wok, using traditional Thai cookers and cooking utensils.  Upon completion of each class, a recipe booklet, containing basic Thai cooking knowledge and recipes of the meals prepared in your class, will be provided.  For those completing 3 or more courses, a pictured Certificate of Achievement will be given.
We offer two classes daily, 6 days a week (Monday-Saturday).  Class times are 8:45-12:45 and 1:15-5:00.   All morning classes start with a market tour.  For those electing not to visit the market, they can meet at the academy at 9:15 am.  The afternoon class meets at the academy at 1:15.   We offer 10 courses, each featuring different meals (a total of 50 meals), to choose from, PLUS we have 2 "BEST OF THAILAND" courses (on Saturdays only).  Cost per class is only 1,250 baht.  For those really serious about learning Thai cooking, we offer an IMMERSION SPECIAL–7 courses for 7,500 baht.  Other special prices are available for multiple classes.  To view what meals are taught, when they are taught, and our pricing specials, please refer to the "Classes & Rates" page.  Special times, private classes, fundraisers, and team building events are available.  For more on this, please refer to our "Special Events" page.
We are available to answer your questions and to handle your booking.  To contact us, please call Ron at: Office–022584021, Mobile–0807706741 or E-mail–Ron@bangkokthaicookingacademy.com